Live Motion Concept GmbH, Germany
LMC was the first company in Germany which supplied EVS Live Slow Motion Systems as stand-alone turnkey solution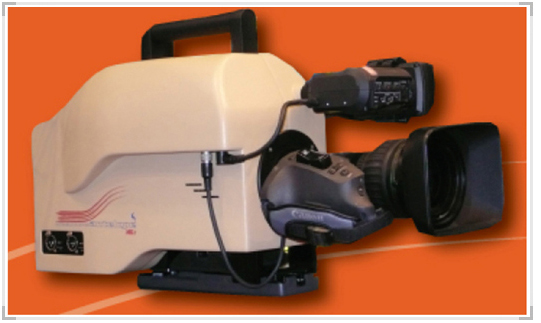 Antelope MKⅡ
The new generation of the awarded antelopeHD Ultraslowmotion system which will exceed your expectations.
A full broadcast compatible system using highest industry standard components.
Finally uou will discover what happens during the fraction of a moment which matters.. and makes the difference.
If uou want to visualize what used to be invisible during sports events, or use it to emotionally charge TV commercials...
Antelope is your chice.
Antelope MKII is a LMC exclusive development and based on Vision Research's V641 technoloty.


Technical Specifications
Fram Rate : @HD 720 : 5,350fps, @HD1080 : 2,560fps
Internal Memory : 32GB segmented memory
Upgrade Memory : CineMag Compatible 512GB
Video Format : HD-SDI
Video Playout : direct Optional, EVS-Network via XT2
Video Outputs : Versatil Dual HD-SDI Ports
Shutter Speed : Variable down to 1㎲
Extreme Dynamic Range : 2 different exposures within 1 single frame
Camera Sensor : CMOS 2,560x1,600
Pixel depth : 12bit
Shading OCP : LMC OCP V2.1
Software : LMC Live Slomo Edit V6.1
RCP : LMC RCP V2.1 full controls
Lenses : B4-mount, PL-mount Cine
Connection :SMPTE Fibre LEMO
Power : 300V/50Hz 16A 1p via SMPTE
Additional Features : Countinuous Recording
2 HD-SDI 4:2:2 Outputs (LIVE / REPLAY)
1 HD-SDI Dual Link 4:4:4
Variable Dynamic Replay (VDR)
Tally
Dual Intercom (Prod / Engineering)
2 Symmetrical Audio Inputs (Line / mic.48V)
Exclusive De-Flcikering Engine V2.5